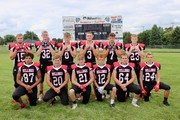 ...in opening round of playoffs
The 5-3 Bulldogs took on the 7-1 Wisner-Pilger Gators in the first round of the Nebraska State Football Play-offs. W-P took a 16-12 lead into halftime, but the Bulldogs scored 14 unanswered third quarter points to take control of the . . .
Creighton Bulldogs battled it out against the Niobrara/Verdigre Cougars. The first quarter was slow as it took the Bulldogs a little bit to get started, they eventually found their rhythm in the second . . .