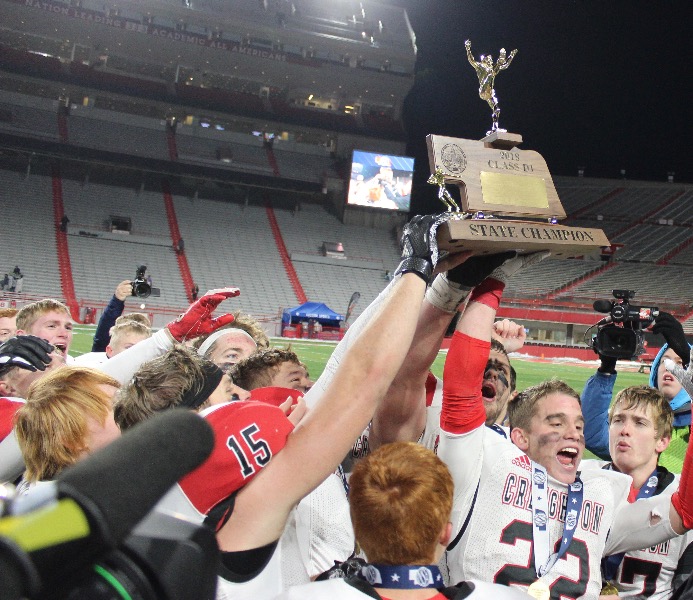 Creighton Football Claims First School State Title
The Longhorns from Burwell held the Creighton Bulldogs to 42 fewer points than they scored in the regular season, but the Bulldogs were able to overcome the loss of quarterback Brayden Zimmerer and defensive back Thad Hazen to sneak past the number 2 Longhorns and claim the school's first state title. The Bulldogs won 32-30 at Memorial Stadium.
Bryce Zimmerer moved over from running back to quarterback and managed to stack up 320 yards and two touchdowns on 54 carries at this position. The Creighton line lead the Bulldogs to their first ever state title. Bryce Zimmerer said, "My line is amazing and it was such a pleasure and a gift to get to run behind them all year, they allowed me to run the ball with confidence all year."
Bulldogs coach Zac Kliment said, "My team responds well when players go down." The team lost both Brayden Zimmerer and receiver/defensive back Thad Hazen to concussions during the game.
Brayden Zimmerer was a horse and a huge loss to the Bulldogs. He had over 1300 rushing yards on the year as a Quarterback and that's pretty impressive. Thad Hazen was also a big loss leading the team in interceptions on defense, and was the top 5 tackler on the team.
Words can not describe the gutsy performance the Bulldogs had Monday afternoon in Memorial Stadium.
Congratulations to the Bulldogs!